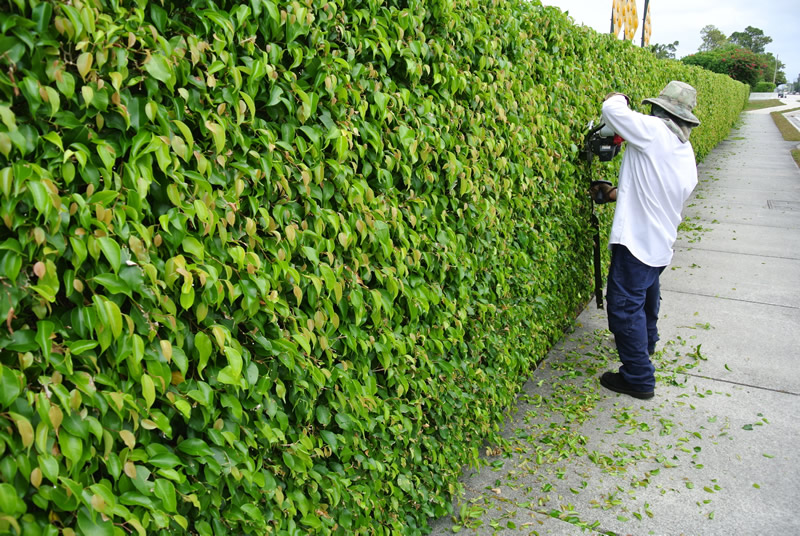 To Trim Or Not To Trim?
It is a question that too often goes unasked in the course of commercial landscape shrub and hedge services. When it comes to cutting landscape materials, strict deadlines can be set and met for the lawn mowing and tree trimming operations. However, while schedules can be set for pruning and trimming of the shrubs, hedges, and ornamentals, completion of these operations must proceed in accordance with the requirements of the different plant varieties.
Sending crowds of workers to maximize production and meet air tight shrub clipping deadlines will most often result in uneven hedge lines, reduced blooms and greenery, and a steady decline in the health of the plants. This style of execution provides little or no consideration for the appearance or needs of the plants themselves. Ironically, many clients end up purchasing replacement landscaping from the very organizations that set and met such trimming schedules in the first place!
To achieve optimal results from the trimming and pruning operations, the first priority is to keep crew sizes small (three to eight men) and keep the workers close together. A crew leader might possess all the pruning expertise in the world, but if his instructions aren't clearly understood to his last man, mistakes will be frequent. Then there is the methodology itself. Although level and proper shape of formally trimmed hedges and plants is the easiest component to understand, it is the most difficult and time consuming to teach and execute if results are to be consistent. Indeed, producing consistently straight hedges requires patience and physical strength on the part of the worker doing the sculpting. He must therefore be allowed the time needed to achieve his best results.
Crew leaders also have to recognize plant varieties that are not to be formally trimmed in order to assure that the power hedge trimmer detail passes these plants during routine operations. Non formal varieties include the obvious flowering shrubs, large leaf plants, small palm trees, grasses, vines, and cane stemmed plants. These must be pruned less frequently, using hand pruners or saws if hacking and loss of bloom are to be avoided.
Certain plant varieties tend to lose their lower foliage over time, exposing stems and trunks even though they are healthy. Successfully restoring the lower foliage in these plants sometimes requires drastic pruning that can reduce their size by 25% to 75%. This procedure should be performed on a minimal (as needed) basis since regularly scheduled hard pruning can be harmful of fatal to many plant varieties. To trim or not to trim? The answer to this question can only be determined at the point of service.